BATTERY OR GAS-POWERED PULLING WINCHES
The PRO Series include our line of winches especially designed for people like you; a pro who wants to work efficiently, without compromise.
PCW3000-LI, PCW3000, PCW4000, PCW5000
ELECTRIC OR GAS-POWERED PULLING/LIFTING WINCHES
The INDUSTRIAL Series has much to offer. Find out everything that Portable Winch products can do for industrial applications.
PCW5000-HS, PCH1000, PCH2000, PCT1800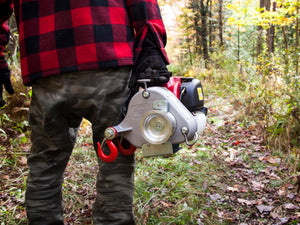 THEY'RE
PORTABLE.
Our winches are compact and lightweight. They can be carried everywhere in any conditions.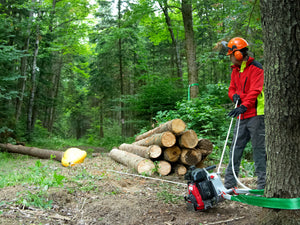 THEY'RE
POWERFUL.
Up to 2,200 lb in single line. Combine with our pulleys, the force can be doubled, tripled, quadrupled and even quintupled!
THEY'RE
RELIABLE.
Powered by high quality engines,
they will always be ready to work.
« Flexibility for multiple uses. »

Ken Rubesh, Portland, Oregon, USA
« We had a great day getting a moose out. Thanks to your great product! »

Martin Bourque, North Eastern, Canada
« I own a PCW5000 and wanted a lighter model for hunting. That is why I also bought the PCW3000! Very happy with your products. »

Kevin Cassidy, Durham, Maine, USA
« As a union electrician in the San Francisco bay area, I feel I am an expert on using winches. Yours is the best I've run. Your company has met and far exceed my expectations! I'm proud to have a tool flying the great maple leaf of the north! »

Jan Wouters, Brussels, Belgium
« Great product: pulled an elk one third of a mile with ease. »

Shawn Cles, Maple Valley, Washington, USA
« I like the fact that they are built in Canada. »

Martin Timmons, Upper Sackville, Nova Scotia, Canada
« I needed a remote winch. Thanks. »

Edward Kilmartin, Twain Harte, California, USA
« Love my winch. Use it to pull poly docks out of the water. Just great! »

Tim Ruggerio , Hadley, New York, USA
« We have used the winch for a few weeks now and are very impressed with how it is able to pull out the wood for us. It is a great solution for a woodlot with no access for traditional equipment. »

Kenneth Hixson, Novi, Michigan, USA